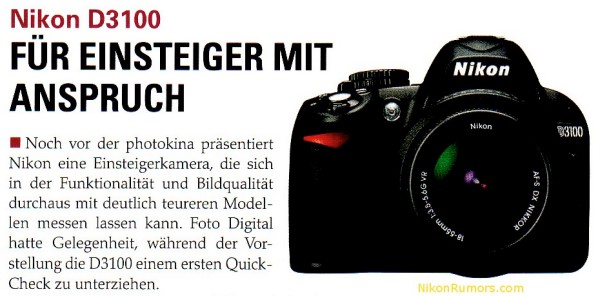 Engadget.com:
Apparent Picture of D3100 in September 2010 Edition Foto Digital Magazine
It's arrived everywhere, this rumor. Engadget has it and so has DPReview and Photo.net discussions.
for example, in iphoto.net:
"Eric Arnold , Aug 13, 2010; 03:55 p.m.
reported specs:
14 MP CMOS Sensor (23.2 x 15.5 mm)
Live View
3 inch Display
100 – 12800 ISO
ISO setting manual or automatic
11 AF points
full HD Video (1920 x 1080)
price 650 €
new EXPEED2 processor
improved objects recognition for the AF control
improved in-camera menu
user can save picture profiles
very interesting, as low-light performance could be better than nikon d5000/90/300. makes one wonder what nikon is planning for d90, d300 and d700 replacements. will d400 use same sensor but with better AF module? will d800 use 18mp non-sony FF sensor, as rumored? what happens to the D3s sensor? will there be an affordable iteration of the D3X sensor?
guess we'll just have to wait and see..."
The seems to use the 14MMP Sony sensor. No reports on autofocus in HD video mode.
__________________
Follow us on Twitter at
@opfweb
Our purpose is getting to an impressive photograph. So we encourage browsing and then feedback. Consider a link to your galleries annotated, C&C welcomed. Images posted within OPF are assumed to be for
Comment & Critique
, unless otherwise designated.