Prologue
In 1959 I went into a commercial bookstore near a major university to try and get a textbook in which I was interested (I had heard it was used in a course there). The clerk said yes they had it, and asked if I was interested in the regular edition or the student edition. I asked what the difference was, and he said that the regular edition was USD $9.50 and the student edition USD 7.25 (this was 1959, remember).
I said, "OK, but what's the difference between the two editions?"
The clerk said, "Mac, that
is
the difference."
I said, well, then, "I guess I'll take the student edition." The clerk said he thought that was a good decision.
************
I recently decided to look into photo editing programs that were alternatives to Photoshop. In fact, I use a very nice such program, Micrografx Picture Publisher 10, but it is rather long in the tooth (vintage 2001), and has some limitations. For one thing, it has no layer structure comparable to that of Photoshop, which limits its ability to do certain kinds of manipulations. Things like markings cannot (in any reasonable way) be made into objects so they can be moved And it fumbles the handling of Exif metadata.
But it has a user interface I dearly love, of course that in part a result of probably 20 years experience.
One alternative I looked at recently was Corel PaintShop Pro, which I had heard these days has a Photoshop-like layer structure. A few years ago, the program had rather a stain on its reputation, a result of the fact that when it was installed it also installed some illware (that's not quite as bad as
malware
but almost) that collected some data on usage and reported it to a third party.
But (purportedly) that was brought to an end after a very bad wave of user revolt, so I thought I would take a look.
I downloaded a trial version of version X7 (that's version 17 in Romano-Arabian digits, a conceit shamefully borrowed from The House of Adobe (not to be confused with My Adobe Hacienda).
A quick look showed that it was very capable. Indeed, its layer structure appears rather comparable to that in Photoshop (although, notwithstanding various tutorials from Asher, I don't know enough about that to make an accurate comparison at this point).
I toyed with the idea of actually buying the product, and when I went to the site to see about the price, I saw that the list price of USD 79.99 was ("for a short time only") marked down to USD 55.99, but that one could buy the upgrade version for USD 41.99. There was no discussion of "upgrade from what", or how one had to qualify, so just for kicks, I told the site I would buy the upgrade to see what it would demand of me.
Without further ado, I was taken to a checkout page, where it seemed as if I could buy it on the upgrade basis for USD 34.99. It's hard to a Scot to pass up a bargain like that, so I sprung for the USD 34.99, and was immediately given a serial number to fully empower my trial version, which worked fine.
Carla, who had heard the 1959 textbook story, said, "Mac, I think that was a good decision."
I actually haven't had much chance to work with it, but I have the following observations.
• It's livery is the today-faddish light on black, and it doesn't seem that there are any choices of other liveries. That scheme is hard for me to work with, but . . .
• The default main page has a zillion teeny-tiny icons around it, leaving very little room for the actual image. I suspect that some of this stuff can be sent away. A big area at the top of the screen is wasted with the name of the program and three large tabs. Here's what the whole thing looks like in its default arrangement (half size):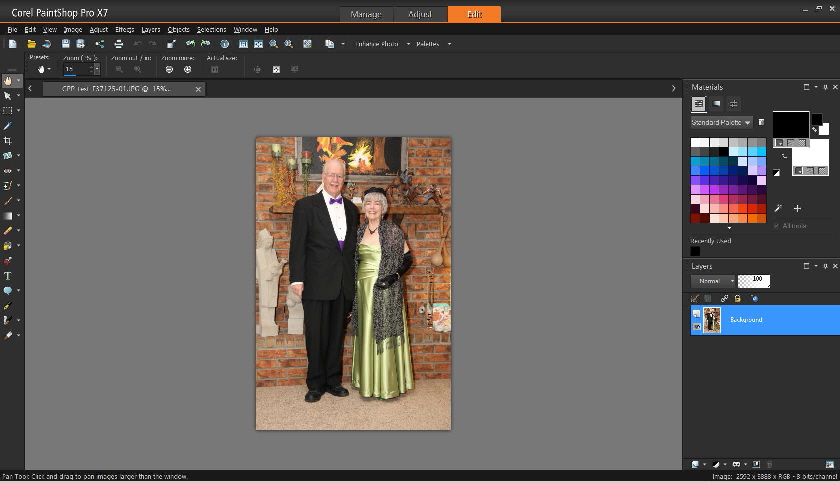 • It is missing a functionality that I dearly love: the ability, while drawing a rectangular marquee (for selection, defining a crop, etc.) to shift the origin corner to reposition the marquee to best fit the area to be contained. In Picture Publisher 10, this is done simply by holding the right mouse button while we shift the origin of the marquee. In Photoshop, this is done by the slightly-less-convenient gesture of holding the space bar. In PSP 9, there is just (so far as I can tell) no such thing.
• It looks as if one can in fact customize the toolbars, a capability that is persistently and irritatingly missing from Photoshop.
• One need not, on every Save As, confirm just what kind of JPG file you have in mind making, as one has to do in Photoshop (as near as I know). (Yes, I know, it just one more stroke on the Enter key.)
It seems to operate well with plug-ins intended for use on Photoshop. I do note that with PTLens it does not pass the Exif metadata so that PTLens can automatically put into play the proper lens correction protocol.
It does eat raw files (at least of the canon flavor, and I think DNG, but there is some uncertainty about that) providing a basic facility for image adjustment. There is no lens distortion correction capability in that facility.
As to matters of greater substance, I will be back later with some reports on that.
All in all, it looks like a rather capable, if idiosyncratic, package, and who can go wrong at that price.
Later.
Best regards,
Doug