We are approaching a time when we can evaluate lenses and sensors in ways never imagined previously.
First let me present the latest Imatest lens testing software. Imatest™ has just announced
"Master 3.2.4 with SFRplus, a new capability that automatically identifies regions of interest (ROI) and helps you rapidly complete a wide range of image quality tests, including sharpness, lateral chromatic aberration, lens distortion, gamma (contrast), tonal response, and color uniformity. This capability is enabled through use of Imatest's new SFRplus test chart, which offers significant advantages over commonly used charts such as the ISO 12233, including:
less wasted area
the ability to produce a map of sharpness over the sensor surface
better measurement accuracy due to lower contrast
full automation of region selection.
Details can be found at www.imatest.com/sfrplus"
We often have to wade through the lens MFRS specifications about their lenses. A lot of what is shown in advertisements are setup with some of the best photographers who could do as well with anything better a broken coke bottle!
Lens testing is now possible with Imatest software that requires almost no user input apart from inserting a file name! The new Imatest™ software is called SFRplus.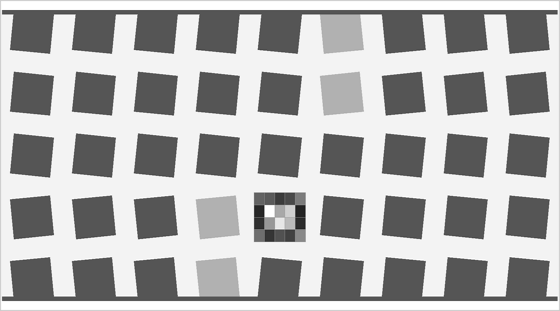 Imatest™ SFRplus test chart
It requires purchase of a newly designed test chart. The picture is illuminated according to easily followed instructions and pictures are taken with the camera mounted on a tripod.
One cycles through different apertures and each picture is loaded in to the software and then leave it to the software. It can automatically locate areas of interest on the test chart and then the calculations are performed without need for further input.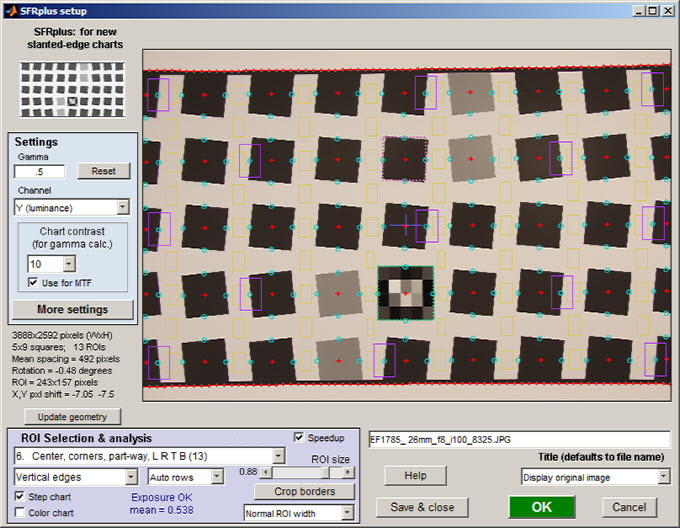 Automatic location of points of interest
"Imatest™ SFRplus measures image sharpness and several additional image quality factors, including Lateral Chromatic Aberration (LCA), noise, distortion and tonal response, using a special test chart that provides a high degree of automation."
"The primary sharpness indicator is MTF50, the spatial frequency where contrast drops to half its low frequency value." This software, "Spatial Frequency Response (SFR), also known as Modulation Transfer Function (MTF), and other aspects of lens and image evaluation are explained" on the Imatest website
here
.
Asher