Voigtlander Bessa R4M with optional Bessa Trigger Winder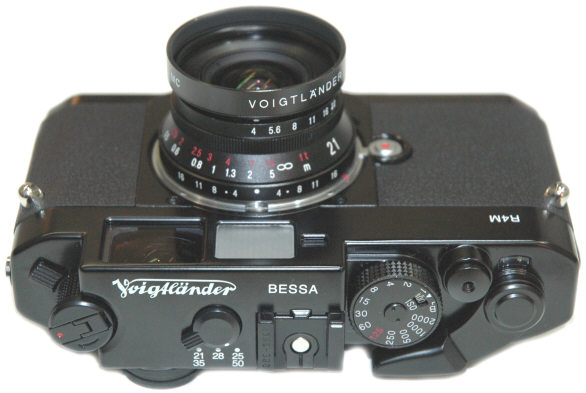 "Introduced at Photokina 2006 and expected to ship by April 2007, the Voigtlander R4M and R4A are the only production 35mm rangefinder cameras ever made with built in parallax projected framelines for 21, 25, 28, 35, and 50mm lenses. This is a REALLY BIG DEAL for rangefinder lovers who have long dreamt of a RF with built in 21 and 25 framelines, but were always told it was IMPOSSIBLE! "
"The R4M is a mechanical shutter camera which works without batteries. It has a LED metering display along the bottom of the viewfinder, displaying exposure information in .5 EV values. The metering display is like the R3M.
The R4A is an electronic shutter camera which offers metered manual or aperture priority exposure. Like most other electronic shutter cameras, dead batteries mean a dead camera. The metering display is like the R3A."
Read more by Stephen Gandy at Cameraquest